We're Getting Mutants in the MCU - The Loop
Play Sound
Bob the builder is a British animated show by Hit entertainment.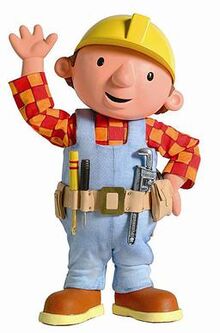 Characters
Characters include
Bob
Wendy
Bob and Wendy's friends, Muck rolly lofty scoop
Pilchard
Travis
Spud
etc.
Episodes
Plot
*spud the dragon only sorry xD*
Bob prepares to have the heat insulation installed in Mrs. Potts' Loft. Meanwhile, Mrs. Percival is preparing costumes for tonight's school play. Spud brings a ladder from Farmer Pickles, and he wears many costumes and he wears the dragon costume and simply borrows it.
Bob and Wendy then enter the loft to install the heat insulation, they see some old junk and Bob then plays with a tambourine. Later, Spud pretends to be a magic dragon when he sees Muck, he tricks him/her by closing his/her eyes and draws a cat face on him/her. However, Bob has too much fun with a tambourine and accidentally loses his balance and falls, sending his leg through the ceiling. Lofty is sent to retrieve plaster and white paint, Spud then pretends to be a scary dragon and scares Lofty. Bob is later freed and when Wendy rides back to the yard with Lofty, She sees Muck's cat face drawn on him/her and finds out that someone is up to mischief. Wendy installs the heat insulation and Bob repairs the hole in the ceiling.
Spud then emerge from the woods to scare off Lofty, But Wendy and Bob is not fooled by Spud's pretend voice and they chase him. Spud accidentally tears the costume's cloth from the bushes and trips over into the mud, ruining it in progress. After being exposed, Mrs. Percival is disappointed that the costume will not be repaired in time for tonight's play. However, Wendy used some of Mrs. Potts' junk and repairs it, Wendy pretends to be a dragon and Spud runs away scared.