We're Getting Mutants in the MCU - The Loop
Play Sound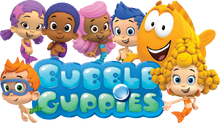 About
Bubble Guppies is a television series produced for Nickelodeon and created by Jonny Belt and Robert Scull, geared towards children aged between four and nine. The series is produced by using Autodesk Maya 3D software and revolves around the underwater adventures of a group of merperson preschoolers. The program premiered on Monday, January 24, 2011 as part Nickelodeon's block, The Play Date.
Episode List
Season 1
Call A Clambulance
The Crayon Priz
Bubble Puppy
Build Me A Building
Ducks In A Row
The Grumpfish Special
The Moon Rocks
Who's Going To Play The Big Bad Wolf
We Totally Rock
Fisketball
The Legend Of Pinkfoot
Gup Gup And Away
The Spring Chicken Is Coming
Boy Meets Squirrel
Have A Cow
Super Shirmptenial Celebration
Happy Clam Day
Can You Dig It
Bubble Bites
The Haunted House Party
Season 2
X Marks The Spot
Happy Holidays Mr Grumpfish
The Lonely Rhino
Bubble Puppy's Fintastic Fairytale
The Cowgirl Parade
Firefighter Gil To The Rescue
A Tooth On The Looth
Humunga-Truck
Check It Out
The Beach Ball
The Sizzing Scampinis
Construction Psyched
Bubble Cadabra
Only The Sphinx Nose
Sir Nonny The Nice
Bubble Duckies
Triple Track Train Race
Bring On The Bugs
Good Hair Day
Season 3
Get Ready For School
The Police Cop-etition
The Elephant Trunk-A-Dunk
The Super Ballet Bowl
The Wizard Of Oz-tralia
The Arctic Life
Puppy Love
The Puppy And The Ring
The Amusment Parking Lot
Good Morning Mr Grumpfish
The Oyster Bunny
The Unidentified Flying Orchestra
Come To Your Senses
The Bubble Bee-Athon
Party At Sea
Bubbke Scrubbies
Swimtastic Check Up
Gobble Gobble Guppies
A Very Guppy Christmas
Puddleball
The Running Of The Bullfrogs
Bubble Kitty
Super Guppies
A Dolphin's A Guppy's Best Friend
Fruit Camp
Season 4
The Glitter Games
Costume Boxing
The New Doghouse
Guppy Movers
Batterball
The Temple Of The Lost Puppy
Space Guppies
The New Year's Dragon
Sheep Doggy
Bubble Baby
Guppy Style
The Summer Camp Games
Trick Of Treat Mr Grumpfish
References
Comments are disabled to prevent vandalism.