We're Getting Mutants in the MCU - The Loop
Play Sound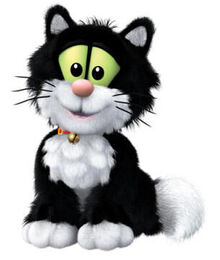 Guess with Jess is a British-Canadian interactive animated children's television series geared towards kids ages four to eight, produced by Entertainment Rights (later Classic Media), featuring Jess the Cat from the television series Postman Pat. The show follows Jess and his adventures with his friends on Greendale Farm in London, England, and how they always try to solve each other's problems with a Big Question that is answered by "asking, testing and finding a way". Jess and his friends search for the answers to science and nature-based questions, allowing younger viewers to learn about the world around them.
Fifty-two episodes were produced, spanning across two seasons. It premiered in the United Kingdom on CBeebies and in Canada on Treehouse TV on November 9, 2009. It aired on Ion Media Networks' Qubo channel from May 13, 2013 to December 25, 2016, but came back airing reruns on July 27, 2020, until December 25, 2020; however, upon returning, the cast was changed to a Canadian cast despite the series taking place in England. New episodes are aired on the Dreamworks Channel as a part of the Dreamworks Jr. block in Thailand. It also aired on TOF Studios, airing in the Canadian English dub.
Unlike his appearance in Postman Pat, in this series, Jess has the ability to talk to his friends on the farm.
Characters
Jess (Charlie George in the UK, and Gage Munroe in the US and CAN) – The protagonist and host of the series. He is a young, curious black and white cat and the only character to have green eyes, he is from the CBeebies series Postman Pat.
Willow (Miranda Montague in the UK, and Julie Lemieux in the US and CAN) – A skewbald horse who wears a sunhat and the only one whose eye colour is brown. The largest of all the characters, she acts as a wise mother figure to Jess. Willow shares the stable with Joey and Jinx, the puppies.
Mimi (Jo Wyatt in the UK, and Andrea Libman in the US and CAN) – A pink rabbit who is best friends with Jess and lives in a hutch, just around the farmyard garden. Mimi has an affinity with arts and crafts, and she enjoys making anything colorful or unique. She, Joey and Baa have blue eyes.
Baa (Bailey Pepper in the UK, and Cathy Weseluck in the US and CAN) – A sheep with a blue beanie, a blue and white scarf, and blue eyes. He always hangs out with Billie, who both live up in the Buttercup Meadow. Baa tends to be afraid of more things than the others, and particularly hates getting wet because the water stays in his wool for a long time, making him cold and miserable, and also making the wool heavy.
Billie (Maria Darling in the UK, and Sandy Fox in the US and CAN) – A fieldmouse. She is often seen with Baa, and rides around on his hat as he can get to places faster than she can. She carries a magnifying glass and a set of binoculars so she can investigate Jess' "big questions" further. She's the only character whose eye colour is bright yellow.
Horace (Daniel Anthony in the UK, and Johnny Yong Bosch in the US and CAN) – A frog who wears large glasses and lives at the pond. He loves making music and instruments out of natural found objects. There's a chance his eye colour could be blue if he's not wearing his glasses, though he has never been seen not wearing them.
Joey and Jinx (Kyle Stanger and Eleanor Webster in the UK, Max Wolf Burkholder and Kether Donohue in the US and CAN) – Two twin puppy siblings. Joey wears a blue collar with a bone-shaped dog tag and has blue eyes, whereas Jinx wears a pink collar with a flower-shaped dog tag and a flower in hair hair, and has bright pink eyes. They both love to run about on the farm, rolling about in mud and jumping over puddles.
Episodes
The series ran for fifty-two episodes and two seasons. Each season aired for twenty-six episodes.