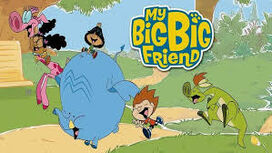 My Big Big Friend is a series created by Canadian and Brazilian Andres Lieban and Claudian Kooboth Wideman, co-produced by Brazilian studio 2D Lab and the Canadian company Breakthrough Animation. Had its first showing on August 9, 2010 on Discovery Kids Latin America and May 9, 2011 premiered on TV Brazil. It premiered in Canada in Treehouse TV on August 20, 2011. It was financed with the laws of federal tax incentives, the At (BNDES) and the Audiovisual Sector Fund - FSA.
The show centers around the friendships of three children, Yuri, Lili and Matt, each of whom has a "Big Big Friend" who is invisible to adults and other children but seen by all three friends.
Broadcast
Country
TV Channel
First aired
Last aired
Brazil
Discovery Kids

TV Brazil

August 9, 2010

May 9, 2014

2016

May 2014

Argentina

Paraguay

Venezuela

Ururguay

Panama

Mexico

Bolivia

Puerto Rico

Colombio

Honduras

Ecuador

Chile

Costa Rica

Portugal

Discovery Kids

Canal Panda

August 9th, 2010

February 22nd, 2016

2016

July 31, 2017

Canada

United States

Treehouse TV

Disney Junior

Nick Jr.

Netflix

August 20th, 2011

September 1st, 2018

March 2nd, 2015

May 11th, 2012

TBA

TBA

TBA

TBA
List of Episodes
Season 1
Brickle Pickle/All The Way Up
Hippo-licious/Clowning Around
Air Buddies/The Sneakers
Skipping Stones/No Kid is an Island
Show and Tell/Perfect Princess
Count Glerm/Hair-Brained Idea
Over the Rainbow/Lili's Tea Party
Tell me a Story/Foods Up
A Chance of Tomatoes/Time Out
Missing Miss Puffy/Desecnt to the Downstairs
Faeries of the Forest/Digging a Hole
Fort Messy/Beach Blast
Finders Keepers/Everyone's a Critic
Music Man/Dream On
King of the Monkeys/That's My Spot
It's My Party/Doggy Duty
Derailed/Something Special
Sleepover/I Didn't Think of That
The New Farmer/Perfect Picnic
Lili Bee/Flower Power
No, My Game/Manly Matt
Stickers/Matt's Fun Park
Big and Small/Valentine's Day
The Boat Ride/Hot and Cold
Super Lili/Holding It In
You Can't Make Me/Toy Drive
Season 2
One notice: This section has multiple issues. Please find the entire list of episodes of this show and help us out.
Harold the Hamster/The Caterpillar
Toybreaker/Stuck
Ready, Set, No!/Orange and Purple
Hooray for You/No Way, Karate
Teacher Trouble/A Knightly Thing to Do
One and Only/Sand and Flowers
Love Potion/The Pink Princess Nightgown
Let's Play Forever/Can't Wait
Toughen Up, Nessa/More Like Matt
Amazing Matt/Don't Give Up
Into the Dragon's Den/What About Me?
What's The Big Idea/Ice Cream and Bananas
Musical Chairs/Who Did It?
Helpless!/Taste Test
Getting Better/Seriously Silly
Leader Lili/TBA
Cowboy Fair/Down the Hall
The Best Butterfly/The Missing Snack
I Can Do That/Where Are You?
The Penguin Dance/Best Friends Forever
TBA
TBA
TBA
The Snowman/The Tree
TBA
Santa's Lost His Sleigh