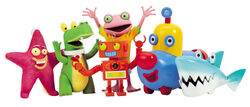 Rubbadubbers is a British stop motion animation children's show from Hot Animation which is owned by HIT
Plot
The television show features characters who are animated bath toys. They often excitedly announce that the children are about to take a bath.
Format
Each episode begins with the Rubbadubbers in the bathroom. The show attempts to teach children, in an entertaining fashion, about the difficult realities of life, and the negative aspects of dreaming about a better world. After a short while, one of the characters uses the phrase "if only" followed by what they wish (e.g. "if only I could have all the bubbles in the world"). The character is then transported to a dream-world where that "if only" is true. It always turns out that the "if only" goes wrong (e.g. having all the bubbles in the world is actually a bad idea) and the character wishes another "if only" that takes them back from the dream world to the bathroom. Everyone is happy again. It ends with Reg announcing that the children will arrive for a bath.
Dream sequence items
In the dream sequences, all the props and scenery are cleverly made from bathroom paraphernalia (toothbrushes, cotton buds, soap dishes etc.)
Airings
The programme ran on BBC Two from 2003 to 2004, and on CBeebies in 2004 Sprout (TV Network) 2005. It also aired on Treehouse TV. It is currently being re-ran on the Tiny Pop channel.
Characters
The children "Benji" and "Sis" are often referred to by the characters but are never seen.
Actors
Voices are provided by John Gordon Sinclair, Sean Hughes, and Maria Darling.
Episodes
Mini adventures
Season Overview
Season
References