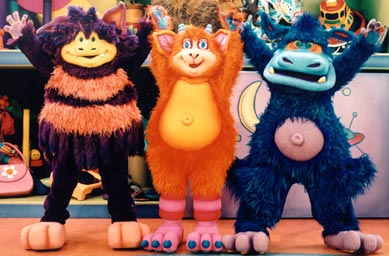 Wee 3 is a television show produced by Treehouse TV, as it features three monsters named Bunwin, Pook, and Creakie
This series started on January 30th 2001, which ended in around the 27th of February of 2011 (sometimes could be put on restrictions to around 1:00 or 2:00 am).
---
Plot
Bunwin, Creakie and Pook are a trio of small intriguing monsters who emerge from the nooks and crannies of a young child's bedroom - but these miniature monsters only come out when the child is not around!
List of Wee 3 Episodes
Season 1 (2001)
Season 2 (2002)
Season 3 (2004)
The Cottage - Bunwin pretends the toy bricks make a nice cottage for the monsters to stay.
Dolly Dolly... - Pook reflects the look of Dolly.
Party Like It's 1983! - Creakie hosts a party and makes it feel like 1983.
Bounce A Ball - The monsters pretend to bounce an invisible ball for their fun.
Hair Salon - Bunwin pretends the house is a hair salon.
Pook Dollars - Pook pretends to save his very own allowance.
Four Square - Creakie gets the monsters to play Four Square with Brenda Murphy.
The Boat Ride - The monsters pretend to play like sailors.
Ninjas - Bunwin pretends she's a ninja.
The Block Tower - Pook makes a block tower for his friends.
Playtime - Creakie plays with Cheep Cheep.
Celebration Time - The monsters celebrate the fun.
The Castle - Bunwin plays castles.
Nurse Bunwin - Bunwin pretends to be a nurse.
Fishing with Creakie - Creakie goes fishing.
One Potato, Two Onions - The monsters count up onions and potatoes.
The Interview - Bunwin makes an interview for Pook.
Dolly Parties - Pook and Creakie celebrate a party with Dolly and Bunwin!
Cheep Cheep Comes To Town - Creakie brings Cheep Cheep to the bedroom.
A Magical Racing Car - Bunwin plays around with Magic Racer.
Orphanage - Pook pretends to play Orphanage with his friends.
Song & Dance - Creakie makes up a little song and a dance too.
School Tragedy - Bunwin makes a little school for the others.
Paper Monsters - The monsters play with colored papers.
Two Toys - The monsters share Dolly and Cheep Cheep.
Mother Moose - Bunwin pretends to be the "Mother Moose".
Volcano Alert - The monsters watch out to make it's sure they're safe from volcanos.
Characters
Bunwin - is an orange monster . Her home is the shelf drawer. Her favorite toy is Dolly
Pook - is a purple monster . His home is inside of the closet. His favorite toy is Magic Racer.
Creakie - is a blue monster. His home is underneath the bed. His favorite toy is Cheep Cheep
Videos